Major Contributions
2022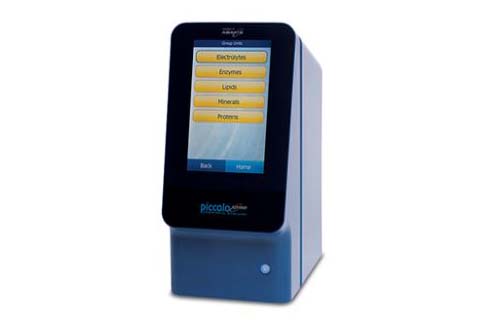 Abbott Piccolo Xpress Analyzer and testing supplies for the Heart Optimization Clinic and cardiology research department will allow the clinical team to perform a simple venipuncture to obtain the needed labs to titrate medications for our patients while in office.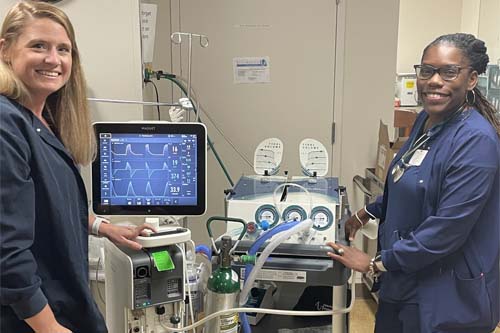 Dual Adult Lung Simulator assists in training for complicated conditions that occur in the ICU and ER. The simulator allows for the learner to respond to changing conditions, troubleshoot and manage the ventilator while being observed by the instructor.
2021
Behavioral Health Unit - Behavioral Health Unit leaders perform routine risk assessments to guarantee a safe environment at all times for our patients and team members. This year, the Foundation provided funding to replace 65 current bathroom and shower doors with psych safe doors to increase patient safety while creating an aesthetically pleasing environment. Funding was also used to purchase 46 anti-ligature storeroom lever locksets to improve patient safety and increase program participation.
Educational events with an inflatable lung and colon - will be held by Baptist Cancer Institute for the next three years. These events offer visual, hands-on education regarding screening exams and cancer prevention. Baptist Cancer Institute supports the community through screening, prevention, treatment and survivorship. Education and preventative screenings are critical in the early detection and treatment of cancer.
2020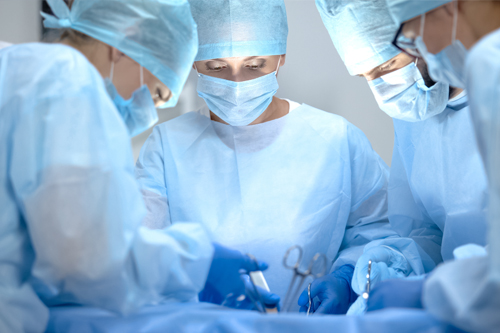 Stryker SPY Portable Handheld Imager uses fluorescence imaging technology to provide real-time visualization to enhance the ability to assess intraoperative blood flow, tissue perfusion and anomalous anatomy. At 1080p resolution at 60fps, the compact and lightweight device delivers a highly detailed image with realistic color reproduction that is easy to change visualization modes and focus, giving a wide imaging control of viewing. This device is often used during gastrointestinal, plastic, reconstructive and microsurgeries.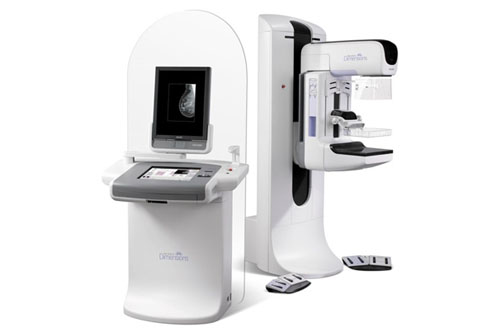 Hologic Selenia Dimensions 3D Baptist Medical Park – Navarre now has 3D digital mammography technology, which takes more precise and detailed images at various angles that can be reconstructed to create a 3D view of the breast. This technology allows doctors to examine the inner architecture of the breast without distortion, which helps them see abnormalities earlier when breast cancer is most treatable. The benefits of 3D breast imaging include improved accuracy and detection, clearer images that show structures in the breast and spatial relationship with surrounding tissue, the ability to detect breast cancer very early, quicker tomosynthesis scans and confidence to rule out cancer without recalling the patient for further study.
SCOUT® Wire-free Radar Localization System – Baptist Hospital Pensacola is the first hospital in Northwest Florida to offer this technology in certain breast cancer surgical procedures. The SCOUT system eliminates the need to place a wire inside the breast to locate a tumor by using non-radioactive, radar technology to provide real-time surgical guidance during breast surgery. During surgery, real-time distance measurement guidance accurately detects the location of the reflector and the tumor to within 1 millimeter of accuracy.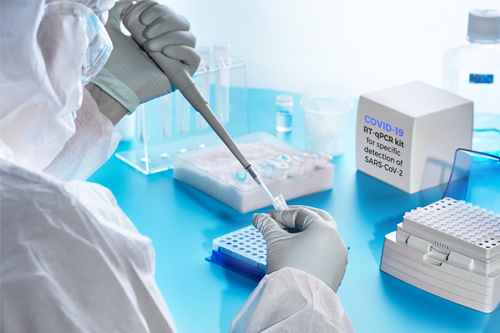 COVID-19 Response Fund was created to provide emergency funding to support Baptist's highest-priority needs in the COVID-19 response efforts, such as N95 face masks, protective gowns, COVID-19 detention kits and equipment needed to retrofit areas of the hospital into negative pressure rooms. Many sponsors of the canceled 2020 Casino Royale event chose to transition their sponsorship to a donation to support these efforts. Proceeds from the virtual Stepping Out in Style Fashion Show were also donated to the fund.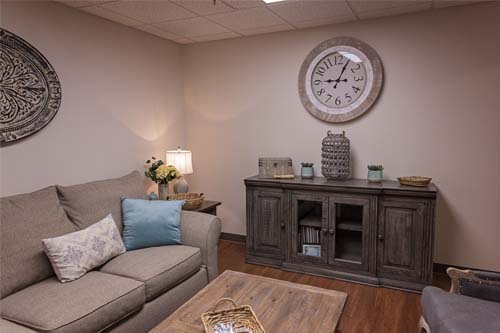 Oncology Multidisciplinary Care Conference Room - Donations from the Cancer Fund supported equipment to convert the Tumor Board microscope to a digital platform to allow for excellent viewing and discussion of pathological changes to cells to be viewed by all providers involved in patient case reviews. This room is used to discuss treatment plans among all specialties involved to ensure an optimal treatment plan is made for the patient. Donations also supported renovations to the new patient and family consultation room where navigators and social workers can privately meet with patients and discuss care plans, provide education and ensure patient and family needs are addressed.
2019
Casino Royale - Proceeds were used to purchase a new large bore 16-slice CT Scanner for Baptist Hospital, which will provide a more detailed diagnostic image to aid in cancer diagnosis and radiation treatment planning for its patients.
Mammogram Fund - The Foundation was able to purchase new GE Logiq S8 XD Clear ultrasound machines for the Women's Center at Baptist Hospital and Baptist Medical Park – Nine Mile. With this new software and technology, substantial differences in breast tissue planes, cysts, tumors, masses and cancers are now more easily identifiable by our sonographers.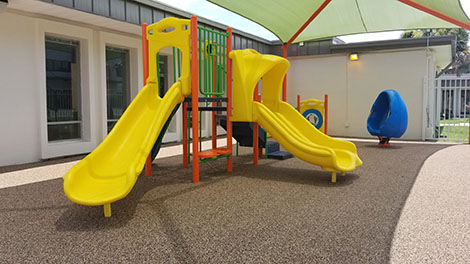 Women's Board Fashion Show - Proceeds were used to build a new playground for the autism spectrum disorder program at Lakeview Center. This program assists families and children through the use of Applied Behavior Analysis by teaching adaptive living, communication, safety and social skills to children.
Andrews Rehabilitation Center at North Okaloosa Medical Center – A generous gift from John Averett and Marguerite Averett supported the growth and expansion of Andrews Institute Rehabilitation at North Okaloosa Medical Center, located in Crestview, Florida. The project included expanded floor and front office space, installation of a privacy window for patient consultation, relocation of the blood lab station and the addition of a second blood lab station.
Lakeview Center - The Foundation provided substantial support for several Lakeview programs including children's case management, Century clinic renovations, the Avalon Center, HUD Independent Living and HUD Housing, family care programs, autism spectrum disorder program and infant mental health initiatives.
2018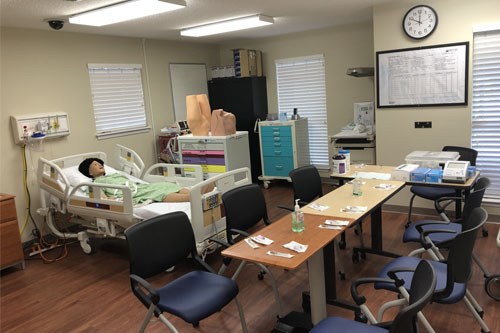 Helping Hands - Funds used to support the SIM Lab expansion for Baptist Hospital's Clinical Education Services to better assist in training and development for our clinical team members.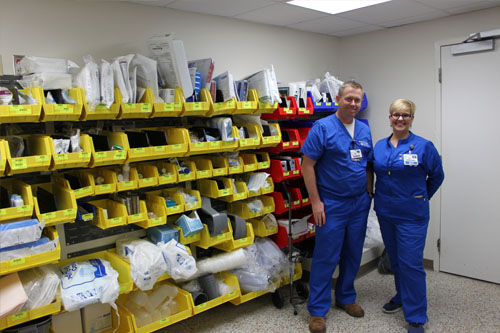 Casino Royale - Proceeds supported the renovations to Baptist Hospital's progressive care unit (PCU), which specializes in treating medical and surgical patients.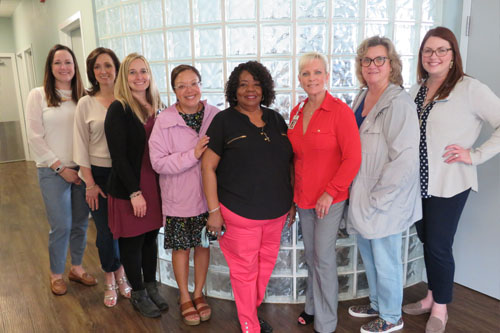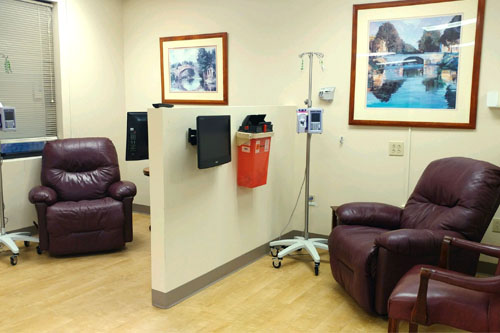 Helping Hands - Funds were used in the renovations for the infusion center inside Ciano Cancer Center at Gulf Breeze Hospital, which was designed to create private spaces in patient treatment areas.
2017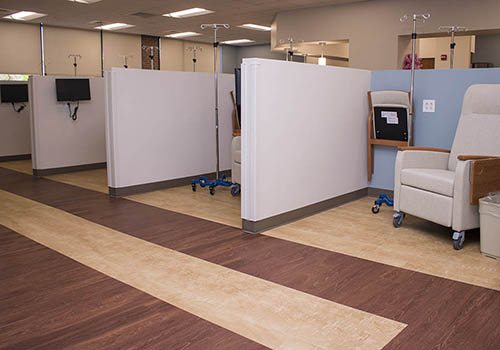 Quint and Rishy Studer donation, Casino Royale, Stepping Out in Style Fashion Show – The expansion of the Infusion Center at the Kugelman Cancer Center of Baptist Hospital separated chemotherapy infusions to allow for more comfort, space and convenience in patient treatment areas.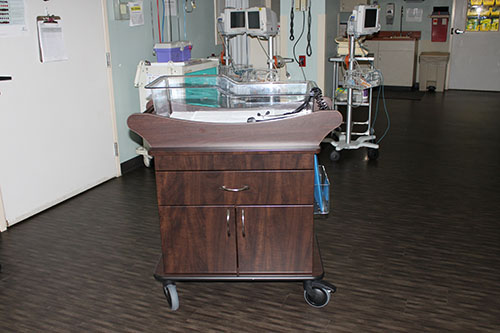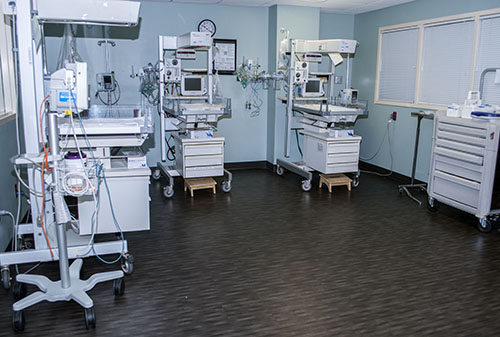 Helping Hands – Funds were used to purchase bed warmers and new thermometers for the Baptist Hospital nursery.
2016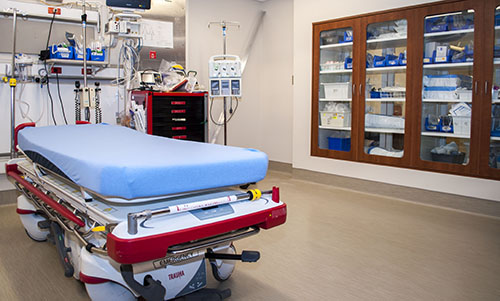 Casino Royale - The Emergency Room department renovated its entire space to include new cabinets, floors, paint and waiting room furniture, as well as an updated security system and LED lighting. The redesigned space has created another triage room, two additional treatment rooms and 10 treatment spaces in the recliner area, expanded nursing and physician workstations, additional work space in both trauma rooms and an updated X-ray room.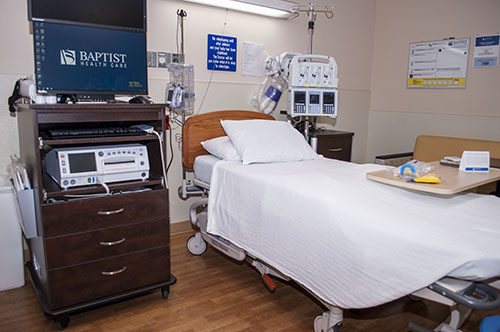 Marion B. Totten Estate, Women's Resource Center Fund – Renovations to the Mother Baby Unit included installing new flooring throughout, remodeling bathrooms, replacing all furniture, switching to directional lighting, moving the medical air tanks behind the walls and adding more storage space overall.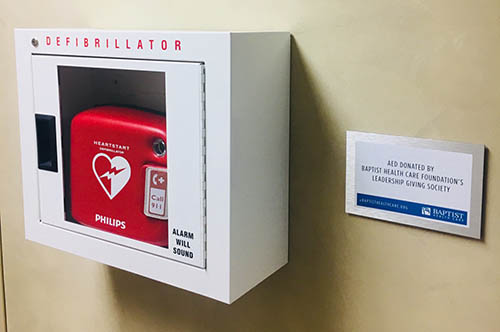 Leadership Giving Society – Baptist Heart & Vascular Institute installed 48 automatic external defibrillators (AEDs) throughout multiple Baptist Health Care locations. The portable electronic devices help automatically diagnose life-threatening cardiac arrhythmia which can lead to cardiac arrest.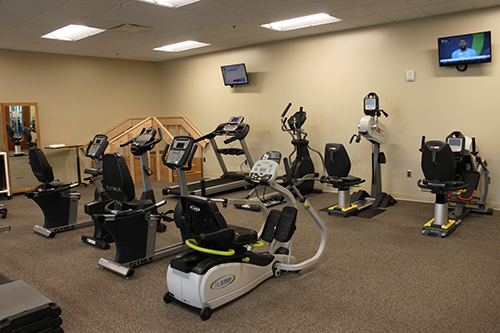 Helping Hands – New equipment was purchased at the rehabilitation space at the Bear Levin Studer YMCA.
2015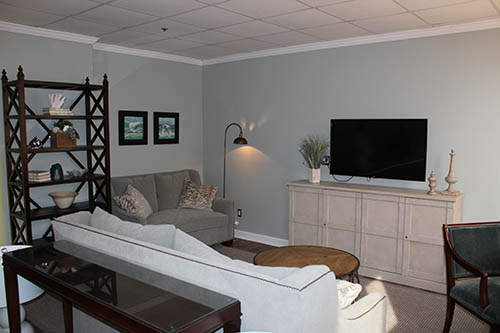 Stepping Out in Style Fashion Show – Remodeling space and creating a palliative care suite at Baptist Hospital to support patients and their families with the greatest care and compassion.