Helping Hands - Team Member Giving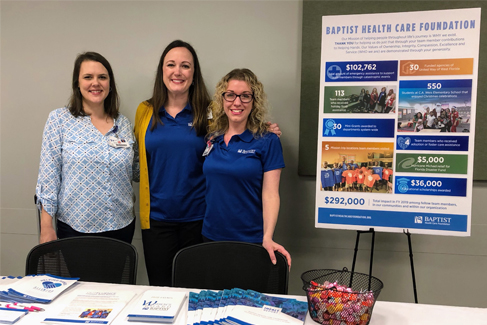 Baptist Health Care team members are among some of the most loyal donors to the Baptist Health Care Foundation through the Helping Hands program. With their generous contributions, several projects and initiatives are made available in three main areas: to assist team members and their families directly, as well as support our community and the Mission of the Foundation.
Team Member Support
Emergency Assistance
The Helping Hands program can provide assistance for team members of Baptist who have been affected by an unforeseen and/or debilitating life event or set of circumstances. In 2016-2017, emergency assistance totaled $61,914 to support team members.
Scholarships
Each year, Helping Hands provides scholarships for select applicants who are enrolled as students within a health care profession in colleges and universities in Northwest Florida and South Alabama. Scholarships are available to any Baptist team member and their dependents. In 2016-2017, 15 $1,000 scholarships were awarded to assist in further education.
Adoption/Foster Care Assistance
Helping Hands provides a one-time gift to assist any team member of Baptist who adopts a child or completes certification or qualifies as a foster parent and accepts responsibility for a foster child. In 2016-2017, three team members qualified for adoption/foster care assistance.
Holiday Food Baskets
Team members in need may apply for food baskets each year during the holiday season. Through Helping Hands contributions, the Foundation is able to provide food gift cards for those team members who receive a food basket. In 2016-2017, 87 eligible team members received holiday food assistance.
Community Support
United Way
Funds raised by Helping Hands are used each year to make a contribution to United Way of Escambia County, on behalf of the team members of Baptist.
C.A. Weis Elementary School Christmas Project
Baptist Health Care adopts C.A. Weis Elementary School each year to provide Christmas presents for the children and a holiday celebration in each classroom. Gifts and the classroom parties for the children are purchased with funds from Helping Hands. In 2016-2017, 519 students at C.A. Weis Elementary School enjoyed the annual Christmas celebration.
Organizational Support
Gift to Baptist Health Care Foundation
Each year, a gift is made back to the Foundation in the name of Baptist team members to help support the Mission of Baptist. In 2016-2017, bed warmers and new thermometers were purchased for the Baptist Hospital nursery.