Conference Room at New Baptist Hospital Campus Will Honor Landrum Family Foundation's $100,000 Gift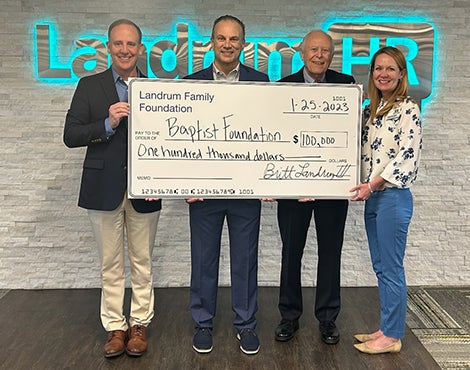 PENSACOLA, FLA. (Feb. 22, 2023) – The Landrum Family Foundation committed $100,000 to the Baptist Health Care Foundation in support of the new Baptist Hospital campus. The Foundation will name the first-floor conference room in honor of the Landrum family for their transformational gift.
H. Britt Landrum Jr. has served on the Baptist Health Care board of directors since 1993, including many years as past vice chair, until he became an honorary board member in 2016. In 2008, he was selected by Baptist Health Care Foundation to receive the Hollinger Award for Volunteer of the Year.
"I served on the Baptist Health Care board for over 20 years and observed first-hand the organization's focus on achieving excellence in patient care and employee satisfaction," said Landrum. "I was there when the hospital won the Baldrige Award, the nation's highest award for organizational excellence. I was inspired and brought those same aspirations and practices to LandrumHR, which made us a better company and helped us win The Sterling Award, Florida's highest award for organizational excellence. Making this contribution from our family foundation is our way of recognizing the importance of that relationship and expressing my appreciation for allowing me to be a part of such a great organization."
Landrum founded the company with only one staff member in 1970 when he was 32 years old. Over five decades, the private employment agency has grown to become a full-service HR outsourcer providing workforce solutions to more than 1,800 businesses and thousands of employees and job seekers across the country. Landrum served as its founding CEO until he retired from the company in 2017. He currently serves as president and CEO of the family foundation.
"I admire Britt's entrepreneurship, his commitment to values and his presence in our community," said Mark Faulkner, president and CEO, Baptist Health Care. "The presence Landrum Companies and Baptist has in our community is incredibly important because collectively, we try to lift the quality of life. It is a blessing to be on this journey with this family, and we are so grateful for their generosity."
###
CONTACT BELOW IS FOR MEDIA USE ONLY
For more information about this press release or to schedule an interview, send an email to
BHCMediaRelations@bhcpns.org or call 850.791.5254.
About Baptist Health Care
Baptist Health Care is a not-for-profit health care organization based in Northwest Florida that is committed to helping people throughout life's journey. Baptist continuously strives to be a national leader in quality and service. Baptist Health Care includes three hospitals, four medical parks, Andrews Institute for Orthopaedics & Sports Medicine and a large network of primary care and specialty physicians. Baptist Health Care is one of the largest non-governmental employers in Northwest Florida.
Baptist Health Care • Baptist Hospital • Gulf Breeze Hospital • Jay Hospital • Baptist Medical Parks Airport, Nine Mile, Navarre and Pace • Andrews Institute • Baptist Medical Group • Baptist Heart & Vascular Institute • Baptist Health Care Foundation
About LandrumHR
LandrumHR is a full-service HR outsourcing company that has been providing organizations with exceptional HR and workforce staffing services for over 50 years. LandrumHR also provides specialized recruiting services through two of its trusted brands, hrQ and Ceres Talent. hrQ is an HR executive search firm that specializes in filling HR executive roles, while Ceres Talent is a marketing staffing agency that focuses on providing marketing talent to organizations.