Baptist Health Care Foundation Awards Scholarships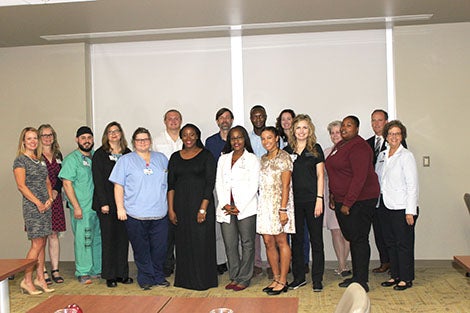 Pensacola, Fla. (July 30, 2018) – The Baptist Health Care Foundation awarded 32 scholarships to Baptist team members and family dependents who are continuing to further their educational goals. Thirty of the recipients received $1,000 scholarships from the Helping Hands fund, a team member giving program of the Foundation. Two recipients were each awarded $2,500 through the Luther and Kathy Taylor Nursing Scholarship Endowment this year, which was established through the generosity of the Taylor family in 2008 to assist students as they pursue a nursing degree.
Helping Hands scholarship recipients are: Kimberly Baker, Mason Baker, Tarsha Banks, Destiny Bellow, Brittany Bickham, Alyssa Brownell, Michelle Davis, Beverly Gonzales, Claire Goss, William Herring, Todd Infinger, Nova McDavid, Richard Melton, III; Nancy Miguez, Clinton Miller, Kim Murphy, Shelli Myers, Linda Odum, Skye Pinder, Rachel Rhodes, Jessica Rife, Veronica Rosa, Katrina Snider, Stephen Soderlind, Emerson Soto, Vamina Stevenson, Shannon Taylor, Mohamed Toure, Lindsay White and Wendy Zwald.
Luther and Kathy Taylor Nursing scholarship recipients are: Megan McCray and Heather Olmstead.
"The Foundation is proud to be able to provide scholarships for our team members as they pursue their educational dreams," says KC Gartman, executive director, Baptist Health Care Foundation. "The Helping Hands and Taylor scholarship programs are another way we further Baptist Health Care's Mission of helping people throughout life's journey."
In more than 10 years the Foundation has awarded more than $200,000 in Helping Hands scholarships and $45,000 in Taylor scholarships.
To learn more about the Baptist Health Care Foundation, call 850.469.7906 or visit BaptistHealthCareFoundation.org.
CONTACT BELOW IS FOR MEDIA USE ONLY
For more information about this press release or to schedule an interview, please 850.791.5254 or BHCMediaRelations@bhcpns.org.
About Baptist Health Care
Baptist Health Care is a community-owned, not-for-profit health care organization committed to improving the quality of life for people and communities in Northwest Florida and South Alabama. The organization is a proud member of the Mayo Clinic Care Network. A 2003 Malcolm Baldrige recipient, Baptist continuously strives to be a national leader in quality and service. Baptist Health Care includes three hospitals, four medical parks, Andrews Institute for Orthopaedic & Sports Medicine, Lakeview Center, Baptist Medical Group and Baptist Heart & Vascular Institute. With more than 6,500 employees and employed physicians, Baptist Health Care is the largest non-governmental employer in Northwest Florida. For more information, please visit www.eBaptistHealthCare.org.
Baptist Health Care • Baptist Hospital • Gulf Breeze Hospital • Jay Hospital • Lakeview Center • Baptist Medical Park – Nine Mile • Baptist Medical Park – Navarre • Baptist Medical Park – Pace • Baptist Medical Park – Airport • Andrews Institute • Baptist Medical Group • Baptist Heart & Vascular Institute • Mayo Clinic Care Network
###