Wendy and Joel Smith: Helping Children Throughout Life's Journey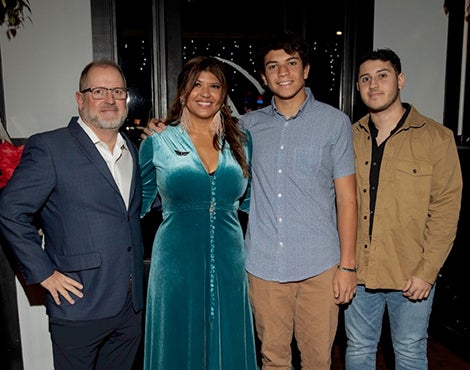 Smith Family
For Wendy and Joel Smith, helping children is their life's greatest passion. When they learned that Baptist was building a state-of-the-art Behavioral Health Unit at the new Baptist Hospital campus, they knew they wanted to learn more. Now, the Smiths are giving back in a meaningful way by making a transformational gift that will help children in need. The Foundation will name the child and adolescent wing in the BHU in honor of their gift.
Wendy reflects on dark times during the COVID-19 pandemic. "Kids nowadays grow up with so many stressors that we never had to deal with," Wendy said. "On top of that, you add a pandemic to their life. I feel that it's life's responsibility to take care of each other, especially when you're able to, and especially when something has been brought up to your attention. My heartstrings pull for anything to do with children."
Wendy understands the challenges that children are faced with because she, too, has struggled with anxiety since she was 21 years old. She has personally helped a young child through a difficult time recently and has seen first-hand the challenges people may go through to receive the care they need.
"I also struggle with anxiety, and that is another major part of why I wanted to be involved," she said. "I'm an adult; I know how to speak up. When things start to get overwhelming for me, I know how to deal with it. Kids don't always know how to voice things. As adults, we need to say it out loud and enable others to speak. There's no shame; you're not alone. As a society, we have to do something about it. I want to be a part of the solution if I can. I am super proud to be involved in this one."
The Smiths are no strangers to Baptist, as Wendy endured two difficult pregnancies that needed extra care. She was hospitalized at Baptist at six months pregnant with her youngest son, and she vividly remembers her "angel nurse."
"It was a very scary moment, but I'll never forget that she was so caring and comforting," Wendy said. "The care that I had was incredible when I did deliver. I've always kept that in my heart. I will always have a special place for Baptist."
Now that the Smith boys are older – Noah is 19 years old, and Daniel is 14 years old – it's imperative for Wendy and Joel to give back to the community where they met and became a family. They were high school sweethearts at Washington High School and believe firmly in showing their children the importance of giving back to the community that has supported them.
"When they're young, kids mostly think about themselves," Wendy said. "As a parent, you're constantly having to remind them to think about others. It's important for our children to see that we care about others because this community has been very kind to us. My children are from here, and I'm so proud of that fact. How you take care of a community you live in is what makes a difference ultimately."