The Rockhill Family – From Humble Beginnings to a Lifetime Plan of Generosity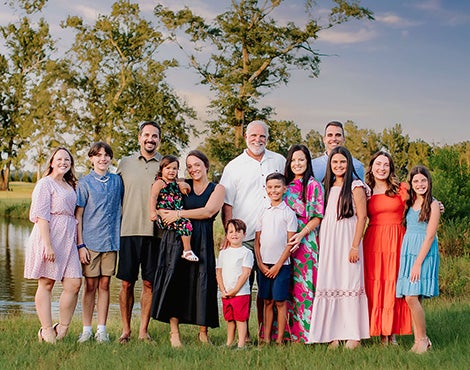 Rockhill Family
James "Rock" and Jessica Rockhill both come from humble beginnings. James is from the inner city in the lower westside of Manhattan, while Jessica grew up in the small town of Bay Minette, Alabama.
Their careers within the aviation community – James a retired United States Air Force fighter pilot and Jessica the manager of Bay Minette Airport – would eventually lead them to cross paths and begin their lives together. The couple was married in 2011 and have since been raising a family; building up their family businesses (The Rockhill Group Inc. (TRG), Rockhill Aviation Inc., and Rockhill Farms Inc.) in Molino, Florida alongside James's three children, Peter, Jimmy and Thomas; and giving back to the community they now call home.
"Because of our humble beginnings, giving back monetarily is unchartered waters for both of us," James said. "As we've become more involved in our community, we've seen how necessary philanthropy is and the huge impact it makes. The Lord has blessed our little family business that started in our home office, and now we're able to give more than just our time."
The Rockhill family has chosen Baptist Health Care Foundation for their latest impactful gift to benefit the new Baptist Hospital campus, opening in September 2023. The Foundation will name the surgery waiting area in honor of their transformational gift.
"What I love about Baptist is that it is a community hospital; leadership is right here in Pensacola, and the decisions they make are based on what's best for our community." Jessica said. "It's our family, our friends, our neighbors down the street that all benefit from a hospital that has all of our best interests at heart."
A monumental staircase will lead from the hospital's main lobby to the second-floor surgery waiting area. With more than 3,000 square feet of waiting space, natural light and views of the town square, the dedicated space will be the waiting area for all inpatient and outpatient surgical procedures.
"We've sat in that waiting room," James said. "A comforting environment is crucial, especially during what's most likely a tense time. After having experienced the old campus and facilities, we are excited about the new state-of-the-art hospital. Baptist already boasts outstanding physicians and health care workers; now they are finally getting the building they truly deserve. The facilities will now match the care."
The Rockhills are no strangers to Baptist, as all three of their children were born at Baptist Hospital. They remain "like sisters" with their physician, Erika Schneider, M.D., physician of gynecology and obstetrics with Baptist Medical Group – Ladies First, to this day because of the incredible care she and her team provided during the birth of their children, Emma, Abigail and Bennett.
When the couple learned about the new hospital being built, they really leaned into understanding the project and what it meant for the community, not only to consider making a meaningful gift but also to become advocates for Baptist and share their knowledge with others.
"Learning that Baptist is unlike any other hospital was truly impactful to me," Jessica said. "I've become passionate about sharing this with others because, together with Baptist, we can continue transforming health care right here in Pensacola."
Jessica also shares her influence on many boards and community organizations including Big Brothers Big Sisters, Impact 100, Escambia County Sheriff Foundation and as a partner in education with Molino Park Elementary.
The dynamic duo will continue to pay it forward and give back in meaningful ways that impact the community the most. James and Jessica may be the first in their families to give back, but they plan to continue making generosity a priority and lifelong commitment.