The James M. Cox Foundation: For this family-owned company, giving back is in their DNA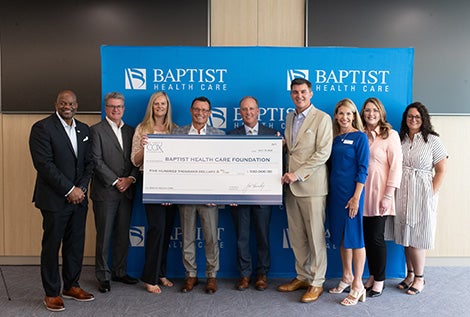 James M. Cox Foundation
Cox Enterprises' founder, James M. Cox, believed strongly in giving back to the communities where the company does business, and one of many ways in which his values remain present today is through the James M. Cox Foundation.
Governor Cox was Ohio's first three-term governor and the 1920 Democratic nominee for president of the United States. In recognition of his legacy, the foundation was created and named in his honor and today, provides funding for capital campaigns and special projects in communities where the company operates.
The James M. Cox Foundation has awarded Baptist Health Care Foundation a $500,000 grant to fund CareView®, a predictive patient monitoring system designed to help health care providers reduce falls, reduce self-harm and increase patient safety. Because of this generous gift, Baptist can provide our patients and families with the highest level of safety during their stay at the new Baptist Hospital and Behavioral Health Unit.
The Behavioral Health Unit, an inpatient department of Baptist Hospital, will use a more robust version of CareView for their specialized patient population. This includes keeping a continuous watch over patients who warrant a higher level of protective observation, such as those who are at risk of harming themselves or others.

The patient monitoring solution uses infrared technology and 24-hour monitoring for patients perceived to be at risk for suicide or self-harm. CareView also provides virtual bedrails that will alert care teams and allow for a faster response time. This technology will be an ideal addition to the behavioral health geriatric unit, where patients are at a much higher risk for falls, especially at night.
We are grateful to the James M. Cox Foundation and Cox for their commitment to ensuring residents on the Gulf Coast have access to high-quality health care.