The Cole Family and Beré Jewelers Create Lasting Community Impact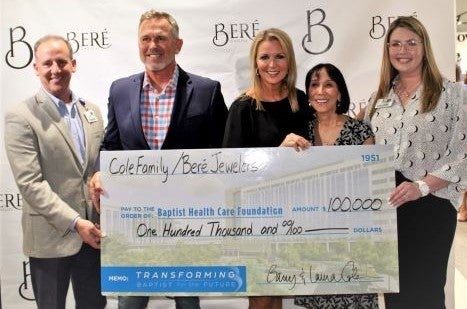 Mark Faulkner, Barry Cole, Laura Cole, Laverne Baker, Heather Moorer
For Barry and Laura Cole, giving back to the community is one of their greatest passions. The high school sweethearts and Pensacola natives have raised two boys and have built and grown a successful business for 38 years in our community. Beré Jewelers has developed countless community partnerships and relationships over the years and has positively impacted numerous nonprofits, both big and small.
"Laura and I have always felt it was our responsibility to give back to our community," Barry said. "We have worked really hard with our amazing team to build our business over the past 38 years. The success we've had wouldn't be possible without the support of our community and friends. It makes us feel good to know we can help any way we can to support the many organizations that do so much to help our community be stronger."
"We love what we do because we make people happy every single day; every day we're helping people celebrate special occasions, whether it's an anniversary or a promotion or supporting a community event," Laura said. "When our charity partners call and ask for our support, I always say, 'As long as our doors are open, we will support you.'"
Barry and Laura have supported Baptist Health Care Foundation's annual Casino Royale gala and the Women's Board Stepping Out in Style Fashion Show for many years. Their guiding philanthropic philosophy of "once a partner, always a partner" was the impetus for their latest gift to Baptist.
"When the leaders from Baptist talked with us about a gift to the campaign, our answer was a resounding yes," Barry said. "We wanted to expand our impact and support the new Baptist Hospital campus by committing $100,000 to the effort. Mark Faulkner's leadership and vision is incredibly inspiring to us."
The Foundation will name the pre-function conference area at the new hospital in honor and recognition of the Cole family and Beré Jewelers for their generous gift.
"Knowing the level of care received at Baptist reinforces our decision to help," Laura said. "Baptist is a hospital with a heart. Both of our fathers received wonderful care at Baptist. In our lifetime, we may never see the opportunity for a new hospital again."
Barry and Laura have been instrumental in helping educate others about the new hospital campus. A group of business owners, including the Coles, have joined together in an effort to encourage others to get involved with Baptist during this historic moment in our organization's history. They are excited that the new facility, with its convenient location, visibility, state-of-the-art equipment and innovative technology, will match the level of care that Baptist is known for in the community.
"Just knowing the leaders are good people outside of work made us feel really good about our decision to make a donation," Barry said. "Everything is going to be visually beautiful – the next dimension of care. Room for growth has already been considered. It is well thought out and planned; it's very impressive. To be just a little part of this is humbling for us."
The couple is pleased to be able to leave something for their sons, Conner and Harrison, to build upon. "We hope our children and grandchildren are involved in helping our community," Barry said. "The fact that they can look back and say, 'Mom and Dad helped with this' will make them proud."