Ron and Margaret Jackson: Continuing a Family Legacy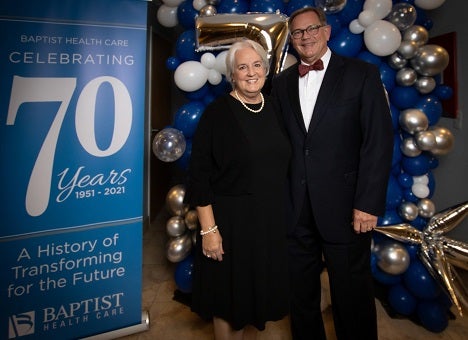 Ron and Margaret Jackson
Ron and Margaret Jackson's commitment to Baptist stems from a longstanding family history. Margaret's grandfather, Earl Gaston, was one of the founding members of Baptist Hospital, spearheading a community campaign to raise funds to build a new hospital. He would eventually become the first president of Baptist Hospital Corporation Board of Directors in 1941 and was often referred to as "Mr. Baptist Hospital."
Margaret remembers Sunday family dinners at Baptist Hospital where it became a tradition to eat with the families and physicians, saying that getting to know them in a more personal way "was his passion."
Margaret herself was born at Baptist. After her grandfather's death, she volunteered in many capacities around the hospital to stay connected to Baptist.
While attending the University of West Florida, Margaret met Ron through mutual friends. They have been married for 44 years.
Ron had always heard family stories from Margaret about Baptist, but it was through Dr. Alton Butler's influence that he made the commitment to serve on the Baptist Hospital board. Ron has since served on many boards and committees at Baptist throughout the last 30 years and currently serves as chair of the Baptist Hospital board.
"The thing that attracted me to serving at Baptist was certainly the family legacy, but if you look back at the way they pulled together to build the original hospital, it was because they wanted to provide better health care; there was a piece missing," Ron said. "Margaret's grandad was very active in the community, and he was committed to making this a better community. He stepped it up a few notches. We have similar needs in our community now, and Baptist is stepping it up several notches with the new hospital."
As Baptist enters a new chapter, transforming once again to bring a new era of modern health care to the community, Ron and Margaret felt inspired to make a major gift to honor Earl Gaston. Through their philanthropic and volunteer support of Baptist, they continue the family legacy, just as Mr. Gaston and fellow community leaders did 70 years ago. The chapel garden at the new Baptist Health Care campus will be named in honor of the Jacksons' generous gift.
"It was important for me that we do something that kept Earl Gaston's name alive and involved in the organization," Ron said. "He was very faithful, and everywhere he went, he promoted First Baptist Church and Baptist Hospital and the Pensacola community. Baptist is a faith-based organization, and Earl was certainly all about having a faith-based hospital."
The couple are honored to have the opportunity to give back to help others and are especially excited that the new hospital will have the latest technology and is designed around the patient experience.
"I just know how much Baptist has impacted the community," Margaret said. "My grandfather would be ecstatic knowing how much it has grown. It has been our family passion. I'm very excited about the next chapter in Baptist's history."