Pensacola Ice Flyers: Impacting the Community Through Hockey and Philanthropy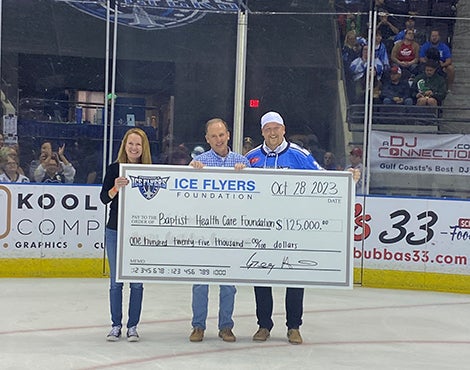 KC Gartman, Mark Faulkner and Greg Harris
Greg Harris started playing hockey when he was 3 years old. He grew up on a farm and then in a small town of southeastern Saskatchewan and Manitoba, Canada, where playing hockey at a very young age is "normal." Greg never thought that one day he might own a hockey team, and he certainly did not think it would be in Pensacola, Florida. After a conversation with his dad during Christmas 2010, Greg started researching available markets and soon learned that the Pensacola Ice Flyers was a potential opportunity.
Greg became the new majority owner of the Ice Flyers in the 2012-2013 season, and the team has since brought home four championships in the Southern Professional Hockey League and a continuous top-three ranking in the league in attendance. Since his ownership, Greg and Ice Flyer Nation have been supporting local nonprofits each season by hosting fundraising nights and giving charities the opportunity to sell merchandise and chance drawing tickets during games or pre-sell fundraising tickets.
"When the fans walk in, because we have this connection to nonprofits, they don't realize the impact they're having just by buying a ticket to the game, which in turn is making our community stronger," Greg said. "My favorite part of any game is looking at the crowd when we score a goal and seeing the families, friends and colleagues all celebrating together for our team. It's a complete full circle moment."
Greg, on behalf of his family back home in Canada and his Ice Flyers family, has now made a $125,000 gift to support the new Baptist Hospital campus – the largest donation to date in the Ice Flyers' history. The Foundation will name the outpatient pharmacy in honor of his dad, who is a pharmacist, and the oncology conference room in honor of his mom, who is a cancer survivor. Both are located inside the Bear Family Foundation Health Center.
Greg didn't have any formal connections with Baptist when he first learned about the new Baptist Hospital campus from close friends – who feel more like his "brother and sister" – James "Rock" and Jessica Rockhill. Another "brother and sister," Shaun and Deshni Pillay from Olive Baptist Church, also spoke highly of Baptist President and CEO Mark Faulkner and Baptist's Mission and impact in the community.
"After hearing all the stories and the greater impact that the people at Baptist have and opportunities the hospital has in this community, I was in," Greg said. "The community is growing and being elevated by so many people and entities that it's an amazing community to be part of, and this new hospital has further projected this community into greater heights. To be a part of something monumental is exciting to me. This is not just a community's legacy or hospital's legacy, it's everyone's legacy who's a part of it. And now, my family, my Ice Flyers family and all of Ice Flyer Nation are parts of that. It's truly an incredible honor to have the Harris Family and the Pensacola Ice Flyers on the walls of the new Baptist Hospital."
Greg referenced that the alignment of Baptist's Mission is very close to how they were raised and taught in his family. Greg's dad owned pharmacies and still works in the business after 50 years. His mom owned a medical equipment company. Both volunteered in the community – his mom teaching figure skating and his dad coaching hockey and baseball. His grandparents were farmers and business owners.
"When I look at both my parents and grandparents and how they owned and operated their businesses, it wasn't about the bottom line," he said. "It was about the people and the community and how they could impact them. I distinctly remember visiting my parents at their businesses and hearing them call person after person by their first name. To this day, that has remained with me, and I do what I can to emulate them here with the Ice Flyers. They were not just owners; they were operators and friends their customers counted on. I inherited that mentality from them. It's always been about the people."
Greg promises that he's not going anywhere, and that Ice Flyer Nation will continue to grow and evolve to create greater community impact each year. Just a few weeks ago, Greg and the Ice Flyers announced the creation of the Ice Flyers Foundation. "My vision for the Ice Flyers Foundation is to inspire by example," he said. "We have established an incredible platform in our community, and I wanted to further cement our commitment to the Greater Pensacola area."