Margie and Alan Moore Pay It Forward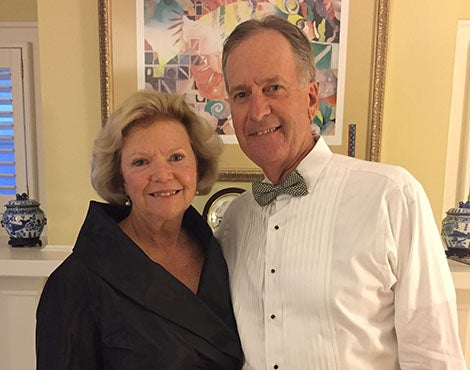 Margie and Alan Moore
Margie and Alan Moore have always had a "pay it forward" mindset. They have also been blessed with great employers – Margie with Merrill Lynch and Alan with Fisher Brown Insurance – that have encouraged them and others to give back to the community.
"We have been very involved in many organizations for many years, and we've given what we could at different stages of our lives," Margie said. "We've both prioritized our giving by helping people with education and health care."
"We try to treat people the way we want to be treated and help others find their best path when we can," Alan added.
The couple, who have been married for more than 40 years, said that supporting Baptist Health Care seemed like a natural fit in their philanthropic priorities. Alan was born at Baptist in 1952, one year after the hospital opened. Both of their daughters were born at Baptist, as well as two of their four grandchildren.
Margie has been serving on Baptist boards and committees since 1990. She currently serves on the Corporate Board of Directors, the Investment Subcommittee and the Executive Compensation Committee and chairs the Mission and Community Impact Committee.
Margie and Alan's latest impactful gift will benefit the new Baptist Hospital campus, scheduled to open in September. The Foundation will name the surgery discharge lounge and the 4th floor conference room in the hospital's cardiovascular intensive care unit in honor of the Moores' gift.
"I think this is a once-in-a-lifetime opportunity to support an organization like Baptist that is community-owned," Margie said. "The hospital itself is going to be a game changer for our entire community. Baptist already has world-class care and medical staff and now we're going to have a world-class hospital for our fabulous team to work in."
The surgery discharge lounge will provide a quiet area for outpatient surgery patients to exit the hospital privately. This space will have a dedicated elevator between the surgery floor and the lounge waiting area that will offer increased privacy and allow patients to be picked up directly outside the lounge by their caretakers.
"Baptist has put so much thought into every single step," Margie said. "Some of the strategic decisions that went into the hospital are amazing. I don't think people realize how much has gone into this design and build. It's going to help people through whatever their journey is to make it the best possible situation they can have, not even just for the patients and families but for the employees too. Baptist has been very thoughtful in making a great place for everyone to work and heal. I feel the community will embrace and understand that once they see it."
Margie said she hears stories about how her clients have been positively impacted and treated well by Baptist and how it makes her proud to serve the organization. "The team at Baptist understands the people part of the equation – that's what makes Baptist different," she said.
Margie and Alan are most passionate about their family. "With our children, and now our grandchildren, Alan and I always wanted to teach by example by working in the community, serving on community boards and giving back," Margie said. "This gift to Baptist felt like the perfect family gift, given that Baptist has played such a tremendous role in the growth of our family over 70 years."