Landrum Family Foundation – A Legacy of Serving Others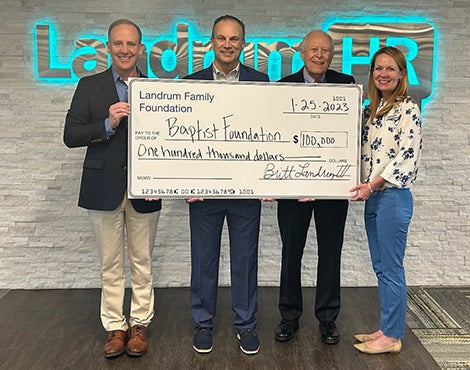 Britt Landrum III and Britt Landrum Jr.
LandrumHR has been serving our community for more than 50 years. The company's philanthropic spirit is strongly woven throughout LandrumHR's organizational culture and stems from its original founder H. Britt Landrum Jr.'s passion and dedication to serve others. Its community-driven vision is evident across the agency's leadership and staff, as well as the Landrum family through the establishment of the Landrum Family Foundation in 2006.
Through the Landrum Family Foundation, the family has donated more than $1 million to non-profits to support their operational missions, including Baptist Health Care Foundation for several years. Landrum Jr. has served on the Baptist Health Care board of directors since 1993, including many years as past vice chair, until he became an honorary board member in 2016. In 2008, he was selected by Baptist Health Care Foundation to receive the Hollinger Award for Volunteer of the Year.
"I served on the Baptist Health Care board for over 20 years and observed first-hand the organization's focus on achieving excellence in patient care and employee satisfaction," said Landrum Jr. "I was there when the hospital won the Baldrige Award, the nation's highest award for organizational excellence. I was inspired and brought those same aspirations and practices to LandrumHR which made us a better company and helped us win The Sterling Award, Florida's highest award for organizational excellence."
Landrum Jr. founded the company with only one staff member in 1970 when he was 32 years old. Over five decades, the private employment agency has grown to become a full-service HR outsourcer providing workforce solutions to more than 1,800 businesses and thousands of employees and job seekers across the country. Landrum Jr. served as its founding CEO until he retired from the company in 2017 and now serves as president and CEO of the family foundation. Upon his retirement, his son Britt Landrum III assumed the helm of the parent corporation, Landrum Human Resource Companies, Inc.
The spirit of philanthropy and leadership goes on as Landrum III continues the family legacy and passion for giving back to community organizations.
In its latest gift to Baptist, the Landrum Family Foundation donated $100,000 to the Baptist Health Care Foundation in support of the new Baptist Hospital Campus. The Foundation will name the first-floor conference room in honor of the Landrum family for their transformational gift.
"The Landrum family is inspired by the world-class care Baptist gives its patients and the network of doctors that provide that care," said Landrum III. "As a private family-owned business, we sincerely appreciate the values by which Baptist lives. Ownership, integrity, compassion, excellence and service are all things that we greatly value as a company as well. We want this gift to help make a difference in the lives of the people that the hospital serves, and we are making the gift because we believe it will do just that. We're excited to make this donation."
Landrum Jr., Nell – his wife of more than 50 years – and their family look forward to continuing their impact in our community through the Landrum Family Foundation for years to come.