Kugelman Family Foundation – Continuing a Legacy of Giving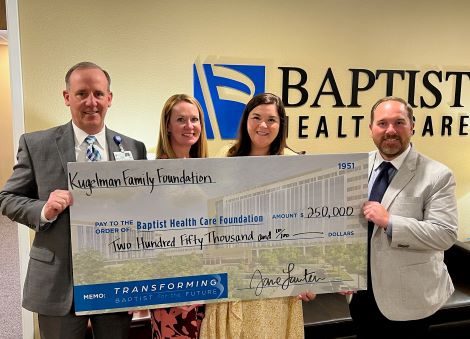 Jane Lauter and Pete Lauter
The Kugelman family has a long history of generosity, and they recently committed to continuing that legacy through a donation to the new Baptist Hospital campus.
After his father passed away, Jack Kugelman brought the family foundation from Jacksonville to Pensacola where he had established a life, career and family with his wife, Jane. He believed in Pensacola and wanted to create a lasting impact in the community.
"He always wanted everyone in the family to be involved," said granddaughter Jane Lauter, president of The Kugelman Family Foundation. "His intention was to have it go on forever and ever and ever. He had his four daughters attend foundation meetings because he wanted them to see the work firsthand and get in involved in giving back. He was defined by the gift of giving back, and he encouraged others to do so in such a beautiful way."
That family legacy is exactly what Jane Lauter and all the grandchildren continue to carry on through the Kugelman Family Foundation. She and her cousins, who all serve on the foundation board of directors, are also following in those same footsteps by involving their children in the foundation process. Now, their children are learning about what nonprofit organizations are doing in the community, just as they did throughout their teenage years.
"Our hope is that we instill within our children the importance of philanthropy and giving back the same way we were taught growing up," Jane Lauter said. "We learned you really have to wrap your arms around the community and take care of each other. I hope the next generation continues what our grandparents and parents did. We're always trying to expose our kids to community organizations and the services they provide because that's how we learned it. You have to see and feel how things affect people to ignite the passion for helping people."
The Kugelman family passion and commitment to Baptist is deeply rooted in Baptist's history. Jack and Jane Kugelman's four daughters and eight grandchildren were all born at Baptist. Jane Kugelman was a member of the original Baptist Health Care Foundation board of directors, and the Kugelman Foundation made its first major gift to support Baptist's heart and vascular program in the early 1980s.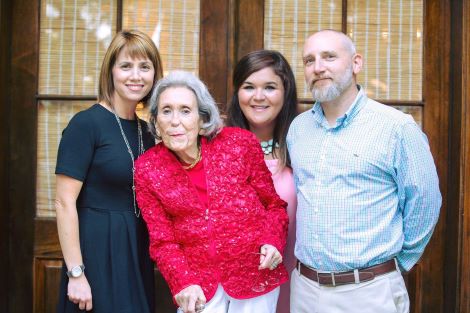 "When Jane Kugelman was diagnosed with breast cancer, she knew exactly where she wanted to be treated,"said Jane Lauter, remembering her grandmother's fondness and loyalty for Baptist. "The care she received during her breast cancer journey solidified her love of Baptist. She felt like their teams saved her life. It was important to her that the Kugelman Foundation gave the health care community a chance to save other people. She wanted to make sure women were receiving their mammograms. She felt really lucky that she survived."
Jane Kugelman's passion for supporting cancer services sparked years of foundation giving for new equipment and services within the Baptist Cancer Institute. Because of these impactful gifts over the years, the Baptist Hospital Women's Imaging Center and Cancer Center have been named in honor of the Kugelman Family Foundation.
Jane Kugelman also took an interest throughout the years in several other programs that supported women's health including Baptist's mammography and mother-baby services. She was a member of the Women's Board of the Baptist Health Care Foundation and enjoyed attending the annual Stepping Out in Style Fashion Show.
And now, the next generation has made another transformational gift to support the new Baptist Hospital campus at Brent Lane and I-110. In honor of the gift and the family's legacy of giving to Baptist, the new cancer center will be named in honor of the Kugelman Family Foundation.
"Baptist truly is the leading hospital in our community," said Pete Lauter, Jane's husband and Baptist Health Care Foundation board member. "The biggest thing I'm excited about is having a place to really showcase what the people who work there do every day. We wanted to be a part of that. When you think about Baptist's Mission statement [of helping people throughout life's journey], it gives you confidence. We know this organization truly lives up to its Mission."
Jane and Pete Lauter promise that the Kugelman Family Foundation is here to stay. They look forward to seeing their children's passions grow and how their impact will live on through the foundation in the future.
"Anyone who you talk to in the community knew Jane [Kugelman] for exactly who she was," said Pete Lauter. "She was the most generous and giving person, and I am happy that [my wife] Jane [Lauter] is following in her grandmother's footsteps. It's important for us as a family to continue that spirit of generosity. We think, what can we do to make our philanthropic giving even more impactful; what about our kids' kids? The way we are doing things now is ensuring that the Foundation is always going to be here for our community. Through good parenting and mentorship, it's going to continue well into the future."
Baptist is grateful to this incredible family and their foundation. They continue to spread their roots and compassionate branches of giving to help people in this community across many generations.