John Averett and Marguerite Averett – Helping Others Through Stroke Education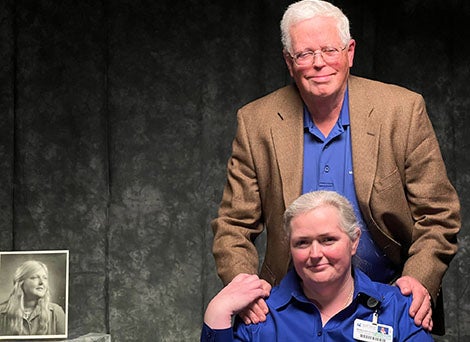 John Averett and his daughter, Marguerite
John Averett and daughter Marguerite Averett share a passion for stroke education. The path that led them on the journey to learn more about stroke care began in 2011 when John's wife, also named Marguerite, suffered a stroke. The family was led to the Baptist team at Andrews Institute to begin rehabilitation where Marguerite continued her journey with physical, occupational and speech therapy.
Daughter Marguerite calls her mom her best friend, saying that becoming her mother's full-time caregiver was "an honor and a privilege." She credits her dad for his support and her brother, John Jr., for being the silent partner throughout her mom's treatment at Andrews.
"I learned so much, and the therapists became part of our family," Marguerite said. "They were so generous and loving and caring. I fell in love with rehab and Baptist and Andrews as a result. There is nothing more inspirational than seeing the healing and the miracles that happen in such a beautiful environment."
Marguerite passed away seven months after the stroke from other underlying conditions, but the impact that Andrews therapists and team members had on the family had solidified permanent and lasting friendships.
"Our relationship with Baptist is a gift from God," Marguerite said. "You cannot put a value on the love, compassion and friendship that they gave us. They were the ones who gave us hope that mom could recover. Seeing mom walk up and down the stairs for her last therapy session brought tears to my eyes as well as the staff's eyes. It was triumphant. Baptist walks the walk when it comes to its Mission statement of helping people – it's a personal relationship."
Marguerite's experience with her mom through the rehab journey also changed her life, she says. She began volunteering with the Andrews rehab clinic, learning the signs and symptoms of a stroke in progress and the steps to take immediately following, including BE FAST – the medical acronym used help teach the most important stroke symptoms – balance, eyes, face, arm, speech and time.
Now, Marguerite is a physical therapy technician at the Andrews rehab clinic at Baptist Medical Park – Navarre, where she is living her "life's mission to educate as many people as I can."
"My daughter has become a living, breathing encyclopedia for stroke development," John said. "I wanted to do my best to take care of my wife when she first had the stroke. My daughter took care of her 24/7. I don't know how I could be prouder of anyone else than I am of my daughter. She has taken that passion and has applied it and is helping other families."
"My wife was the most incredible person I've ever known," John said. He admits that he was surprised by how little he and his daughter knew about the signs of a stroke, and they don't want the same to happen to other families in their community. That's why they're so passionate about stroke education.
The Averetts have become one of Baptist Health Care Foundation's most loyal donors, making a continued impact through philanthropic gifts to support stroke care and education, including Baptist's annual stroke symposium, as well as programs through the Women's Board and the Foundation's Mammogram Fund. Half of the cardiology and neuro/stroke floor in the new Baptist Health Care campus will be named in honor of the Averetts' most recent transformational gift.
"Andrews was who gave my wife the most hope of recovery," John said. "I want that to be available for more people. We had fallen in love with Baptist. When we were informed of the new hospital build, we knew we would keep supporting Baptist's Mission of helping people get the highest quality of care in northwest Florida."