John and Jerre Peacock Invest in Heart of Community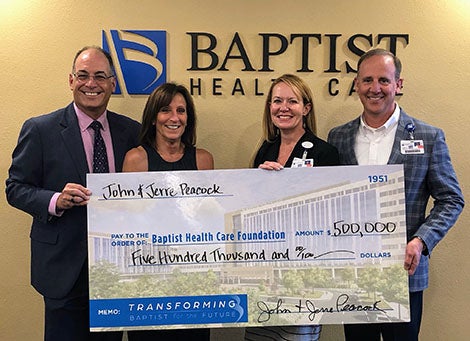 John and Jerre Peacock 
Helping elevate the community is what John and Jerre Peacock do. The couple, married for 22 years, have been generous contributors to our region for over two decades through the Panhandle Charitable Open. They are now taking their generosity to a greater level by investing in the heart of the community and the future heart center at the new Baptist Health Care campus located at Brent Lane and I-110.
John and Jerre believe the new location is right where services and care are needed. "Baptist's new health campus will be such a centerpiece in our community, right off the interstate and Brent Lane," John said. "The campus will elevate our area, with both the care offered and the beautification of the area."
"It will be a wow factor, the way this new campus is structured," Jerre agreed. "It will help people see we are a growing city."
John and Jerre said they "grew up without means but are now blessed in their lives and careers." Because of that, they are passionate about making a difference. "We strive to be more contributors than consumers, and we instill that in our children and grandchildren," John said.

John and Jerre resonated with the Baptist culture, calling it "the heart of the community." For that reason, they connected with its heart center. Their generous multi-year donation totaling $500,000 will name the Baptist heart center on the new health campus to be the Peacock Family Heart Center, dedicated to their large family, including Jerre's family, the Ceravolo family, and future generations.

The heart center in particular is meaningful for the Peacocks. John shared how he had a heart scare last year, finding out he was experiencing atrial fibrillation, or AFib, after a routine exam with his primary care physician. He was referred to a Baptist cardiologist and electrophysiologist to help his heart receive the care it needed. "Everyone was over the top professional in my experience at Baptist," John said. "I received nothing but the best care and personal attention every time." John and Jerre have had many friends and family members receive the same exceptional level of care at Baptist.

Since then, John's heart is beating well. John and Jerre are using their hearts to show further compassion and help others get the care they need.

We are thankful for John and Jerre for being contributors and centerpieces in our community, paving the way for future generations. They will touch the lives of countless people through their incredible kindness, inspirational generosity and this new heart center.