Jessica Lee, the Lee Family and Kia AutoSport Make Giving Back to Community a Top Priority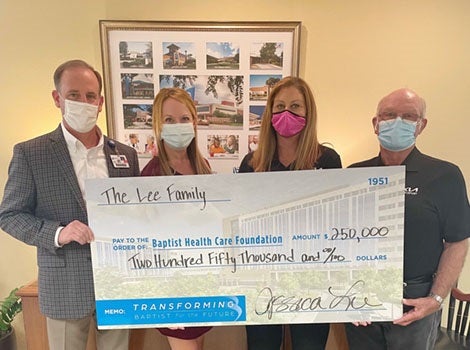 Lee Family
Giving back to others is what Jessica Lee, her family and her team at Kia AutoSport are most passionate about. Even Jessica's 7-year-old son, Monroe, makes it a top priority through donations from his lemonade stands.

"I like to teach my son the value of giving," Jessica said. "He's already an entrepreneur and raised several hundred dollars for local children and families in need."

Jessica inherited her generosity from her parents, Monroe and Mary Rose Lee. She said her parents instilled in her the importance of donating back to others, not for recognition, but because it's the right thing to do.

Jessica and her family (including three sisters) had their share of struggles growing up. She said at one point her family lived in the upstairs area of a car dealership. Now that her family is successful and secure, she and her son, along with the Kia AutoSport family, want to pass their blessings on to others.

Baptist Health Care is on the receiving end of their latest blessing. Jessica, on behalf of Kia AutoSport and her family, is donating $250,000 to the new health campus located on the corner of Brent Lane and I-110. In particular, the donation will go to the chapel located inside in the new hospital.

"Our faith is important to my family," Jessica said. "So, this was an easy decision for us to make and put our donation to a tangible site where faith can live on."
Jessica serves on the Baptist Health Care Foundation board, and she has seen the need for upgrades and a more modern health care facility. Therefore, she is very excited to see the progress of the new health campus.
"Our community needs this new state-of-the-art campus, and I am fortunate enough to drive by and see the progress twice a day, every weekday, to see it coming together," she said. "It's exciting, and I'm excited for our community to have this!"

Generosity is in the hearts of all Kia AutoSport employees that Jessica oversees in her role as general manager and vice president. They pick several charities to give time and donations to each year, including most recently, FamiliesFirst Network's Operation Santa and United Way's Day of Caring.

"It makes my heart happy to see my team get involved and be passionate about helping others," Jessica said. "Our participation in giving has increased, and I've seen several employees take great pride in shopping for local kids and in planting gardens for a local non-profit in need."

Giving back, spreading that love and making the community a better place is in Jessica's blood. Now she passes on that passion in Monroe and in every person she meets. Thank you, Jessica, the Lee family and Kia AutoSport, for passing along your faith and your compassion to future community members through your gift to Baptist.