Hunt Family Born into Baptist Culture and Generosity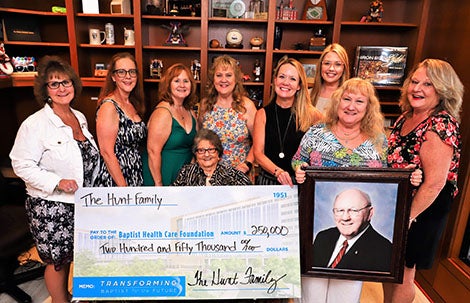 Hunt Family
The Hunt family has a long-standing history with Baptist. Their matriarch, Ann, was a volunteer in the Baptist Women's Center for 25 years. Her husband, William (known as Bill,) was a former Foundation board member and served during the time when Gulf Breeze Hospital was built in 1985. Their six daughters were born at Baptist Hospital. While in high school, two of the daughters also became volunteers at Baptist. More recently, one of the grandchildren was born at Baptist Hospital.
Being a part of Baptist is truly "a family affair and a part of who we are," said Pamela (known as Pam) Hunt Caddell, who has served on the Foundation board since 2002, currently as the vice chair.
Pam, fourth in line among the six Hunt daughters, is president of Gulf-Atlantic Constructors, Inc. Her father, Bill, started this company in 1972, and she took over the business for him in 2009. Pam and her five sisters inherited the generous, giving spirit from their mother and father.

"My dad taught us that if you do well, you pass it on," Pam said. "If God blessed you, as I feel he's blessed us, then you should share that blessing. My father has always donated to Baptist, and my mother was a longtime volunteer, and now it's our pleasure to continue that legacy."
When Ann heard news of the new Baptist Health Care campus being built at Brent Lane and I-110, she knew their family could and wanted to contribute. Ann spent many special years as a volunteer in the Women's Center and delivered six daughters at Baptist so giving $250,000 to the new Women's Center at the new campus seemed like a natural fit.
The Hunt family views the family's contribution to Baptist as an "investment" and a way to "pave the path to a better future."

"We're blessed to live in this community, and we want to see it thrive," she said. "That's what keeps my family and I moving forward – always trying to improve and make it a better place."

Pam says Baptist has touched her life and her family's lives in countless ways – from caring for her husband, Phil, when he needed a stint in his heart; caring for her mom during her brain tumor and seizures; and caring for her father in multiple ways until he "graduated" (passed away) in 2019. Through each experience, the Hunt family has felt like part of the Baptist family.

"We value Baptist so much because they care about their people (their team members and those they serve), and we do too," she said. "Our family shares the same philosophy – without people and our community, we are nothing. They give us a purpose in life."