Gupta Family: Giving to Honor Heritage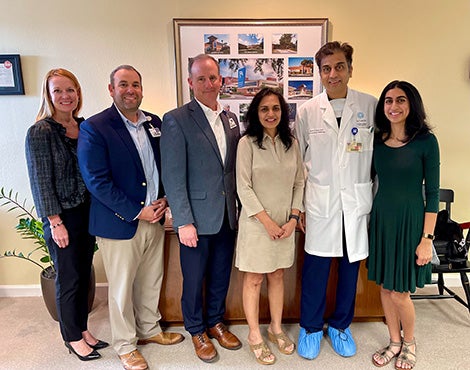 The Gupta Family
Amit Gupta, M.D., and his wife, Shruti, embody a sincere spirit of generosity and kind-heartedness. Their compassion and desire to help others stems from their Indian culture and strong family values. Growing up they learned that giving back is essential, and they are grateful to their parents for teaching them the value of selflessness.
"Our Hindu religion says, when on this earth, we come with nothing; when we leave, we leave with nothing." Shruti said. "What you have in your life is not yours. If you're blessed in life, there's a purpose in that you're supposed to share those blessings."
The Guptas are honoring Dr. Gupta's parents, Girish S. and Vimu G. Gupta, with a monetary gift to the new Baptist Hospital campus. The Foundation will name the diagnostic imaging center inside the Bear Family Foundation Health Center in honor of their transformational gift.
Dr. Gupta, an interventional radiologist, credits his parents for his family's success, saying his parents worked hard to put him through college and medical school. Dr. Gupta's father was the first in his family to come to the United States from India on a student Visa, moving to a small apartment in Philadelphia. His mother and two other siblings stayed back until his father had settled. His father always helped anyone in need, even when he didn't have much to give.
Shruti's parents embody that same compassionate heart. Even at ages 82 and 84 today, they continue to raise money in the U.S. to build schools and support animal shelters back home in India. They came to the U.S. in 1984 with a green card for their children's education and to start a new life.
Dr. Gupta and Shruti grew up in the same city in India but didn't meet until in their late teens while on separate trips to London. Dr. Gupta studied molecular biology at Johns Hopkins University, completed his medical degree at Duke University and then completed his residency and two fellowships from Yale University School of Medicine. Shruti studied chemistry at Upsala College and completed her master's degree in pharmaceutical sciences from Rutgers University.
The couple married in 1991 and now have three children. When they moved to Pensacola, they never expected to stay long, but they fell in love with the people and the community. While Dr. Gupta is not an employee of Baptist Hospital, he has served as an independent member of its medical staff since 1997.
"The people at Baptist are fabulous – the nurses and the technologists, they're amazing people," Dr. Gupta said. "We help so many people. It's been very rewarding to me. Baptist has afforded me to work with these patients, and we felt like it was a good time to give back. Being in that new location is going to help us take care of even more people."
Shruti is proud of her husband's work in the medical field and what he provides for the community. "The excitement of what he does every day is priceless for us," Shruti said. "He regularly reads journals, finds new procedures and trains in those studies because he wants to bring innovative interventional procedures to the community. I love that about him. And it feels good to give to a hospital because it serves the entire community. For that reason, we thought it was a great opportunity to give to Baptist and honor his mother and his late father."
The Guptas hope their gift inspires others to give, just as they are instilling those same values of compassion and generosity to their children.
"I just want to help people," Dr. Gupta said. "Our legacy is our children. I want to make sure they learn the many aspects of giving, charity and helping others."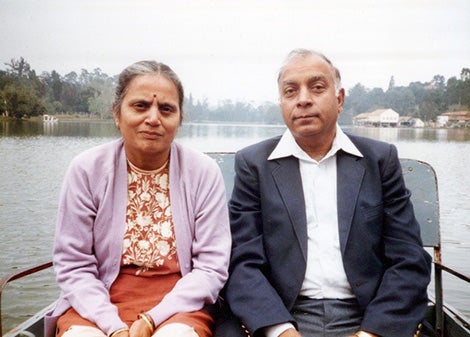 Dr. Gupta's Parents, Girish S. and Vimu G. Gupta