Fred and Susie Donovan Leave a Legacy of Generosity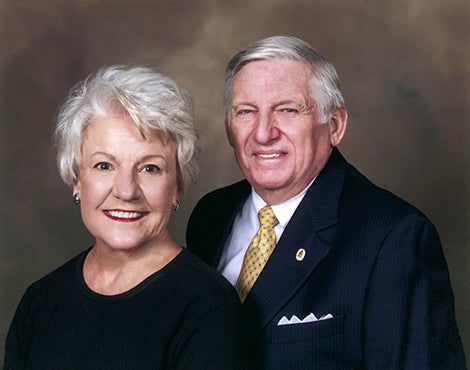 Susie and Fred Donovan
Fred and Susie Donovan's faces light up when talking about their grandchildren. They treasure the memories they've created with them while traveling and experiencing different cultures in destinations such as London, Ireland and Alaska. Their stories, and their smiles, are endless.
"We've always said, when they can carry their own suitcases and can take care of themselves, they can travel with us," Susie said.
"We've got a great family," Fred said. "We enjoy spending time with our grandchildren. They're growing up now, so we have great conversations with them over dinner often."
Family has always been the focal point for the Donovans. Fred moved back to Pensacola a few years after graduating from Georgia Tech with a civil engineering degree. Susie became a flight attendant after school and traveled around but often came back to visit her parents. They were set up on a blind date, and when Fred showed up wearing an old shirt with nits, she jokingly said, "I'm never going out with you again." Fred persisted, and eventually Susie moved back. They were married in 1970, and they happily celebrate 54 years of marriage with three children and nine grandchildren.
Fred was hired shortly after their wedding by Bill Baskerville to the civil engineering firm, now known as Baskerville-Donovan, Inc., a nearly 100-year-old local firm. Fred became CEO in 1965 and then chairman in a consulting role in 2021.
Fred was active in the community, joining multiple boards for several years including Baptist Health Care, Greater Pensacola Chamber, Florida Chamber of Commerce, Gulf Power Company, Autism Pensacola and others. He served on Baptist boards from 1983 to 2010, with many years as chairman or vice chairman. In 2011, Fred was recognized as an honorary board member, and in 2018, he was awarded the Baptist Health Care Foundation Hollinger Award for Lifetime Achievement to honor his long-term commitment to Baptist.
"At that point in my life, I had plenty of opportunities to get involved on boards and committees," Fred said. "I wanted to get on the Baptist Health Care board because it was a local health care facility, and the votes were real. They were a working board, and your vote mattered."
Now, the Donovans are giving back in a meaningful way by making a $100,000 gift to support the new Baptist Hospital campus. The Foundation will name the hybrid operating room in honor of their generous gift.
"Baptist has always been here for us," Susie said. "We have really good memories, and our experiences have all been good and positive. It was a natural thing to do. It makes me feel very proud to be part of it. It's beautiful – the lighting, the artwork, the town square. You feel wrapped up in a good way."
Fred and Susie are excited to partner with Baptist during its transformational journey, and they're hopeful that their gift will be a legacy for their children and grandchildren on the impact of generosity in our community.