Dr. Joe and Susan Story – From Humble Beginnings to Generous Philanthropists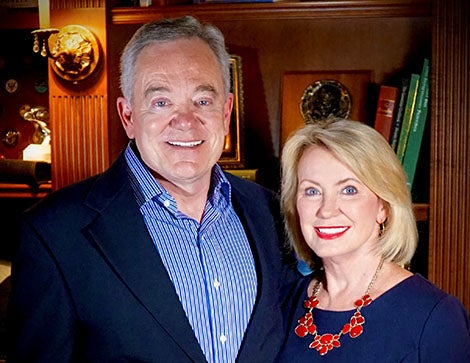 Dr. Joe and Susan Story
When Dr. Joe and Susan Story reflect on their life's journey, individually and together, they know they are fortunate. They also know what it means to come from humble beginnings, to have financial and family struggles throughout their childhood. These experiences have inspired the couple, who have now been married for 27 years, to give back to those who need it most.
"Joe and I both come from very humble means," Susan said. "When it comes to helping the community, we know what it's like because we've been there. We are passionate about helping people who are in the same situation we both were. Everybody deserves a chance to become something."
Growing up, Joe, who is a co-founder and developer of the Andrews Institute of Orthopaedics & Sports Medicine, felt a responsibility to take care of his family after his father left when he was a young boy. At one point, they found themselves homeless, so Joe got his first job at age 12 to help support his mom and sister.
After studying two years at Snead State Community College, Joe graduated from the University of Alabama with a bachelor's degree in biology and then earned a bachelor's degree in anesthesia from the University of Alabama in Birmingham (UAB). He went on to earn his medical doctorate (M.D.) and served as chief resident in his final year of residency with UAB.
Susan, who recently retired as president and CEO of American Water Works, the largest water utility in the United States, says her family was very close and tight knit. Her mom and dad both worked at the local cotton mill for minimum wage when she was very young. Her dad then got a job at the city wastewater treatment facility and eventually became a skilled pipe fitter, which allowed her mom to stay home and raise her and her brother. She never realized growing up that her family had financial struggles because the family was happy and had their basic needs covered through her hard-working parents.
Susan put herself through school, also beginning her education at Snead, where her father also attended on the GI Bill. She then transferred to Auburn University where she earned her bachelor's degree in industrial engineering with a minor in mathematics. She later earned a Master of Business Administration at UAB.
Even though Joe and Susan both grew up in the same small town of Albertville, Alabama, it wasn't until a chance blind date that they met while both working in Birmingham. Joe's sister Mary, who worked with Susan, wanted to set the pair up. At the time, Joe was running a successful multispecialty medical clinic, and Susan was an executive with Alabama Power. Both were reluctant at first to go on a blind date, but they hit it off and married eight months later.
In 2003, Susan was offered the president and CEO position at Gulf Power Company in Pensacola, creating new opportunities for both. Susan had built a name and reputation for her strong leadership, business acumen and giving spirit. At his core, Joe is an entrepreneur, a researcher, a builder, a creator. He had built several successful medical businesses and practices and had several ideas he believed could benefit the Pensacola community.
"I've always had this passion to help heal, to do something that impacts people's lives, but I knew I could do more, something different," Joe said. "When I met with Al Stubblefield (Baptist Health Care president and CEO at the time) — and I'll never forget this — he was the first one who asked me, 'what do you want to do?' And that was a game changer for me. I had an idea to create a place where everyone gets the same level of care."
Joe said he was very impressed with Al's leadership and Baptist's Mission and Values, that he knew he had found a new place to call home. He began creating a conceptualized plan of care in partnership with Dr. James Andrews, whom he knew from Birmingham. With a small team of visionary leaders, Andrews Institute was founded and opened in 2007. Joe became the first president of Andrews Research & Education Institute[CG1] and chair of Andrews Surgery Center.
The Storys will continue their legacy with Baptist through their recent $1 million transformational gift to support the new Baptist Hospital campus at Brent Lane and I-110. The Foundation will honor this gift by naming the Story Medical Arts Building at the Andrews Institute.
"We are passionate about being part of innovation and transformation that makes people's lives better," Susan said. "We are passionate about educational opportunity for everyone. We are passionate about being a hand up for those who want to run when they get up. We believe the quality of a person's life involves the physical, mental and spiritual parts of that person, and we believe that the right medical care—in a warm and inclusive community atmosphere and where everyone has a right to outstanding care—is what Baptist is all about. So that is where our passions unite."
Joe and Susan always put their philanthropic giving where their passions lie, with a focus on impacting education, underserved communities and health and human services. They prioritize their impact through efforts that have a personal connection with them and organizations that will significantly impact the lives of so many others.
Along with their donation to Baptist, they have made generous gifts to Snead State and Auburn University. Joe and Susan have also supported the Jackie Joyner Kersee Foundation's work with youth in economically distressed communities; the Gulf Breeze First Responders Crisis Fund, which they co-founded; the Water For People global organization for sustainable clean water in South America and Africa; the Jafuta Foundation helping women and children in Zimbabwe; the H. Lee Moffitt Cancer Center in Tampa and many others. The couple supports various Christian mission efforts around the world, and Susan has been a member of the Pensacola Bay Area Impact 100 every year since its founding.
"We want to be remembered as people who really care and who use our talents and resources to make a lasting difference in the lives of others and our amazing community," Joe said.