Corbett and Sarah Davis, the Davis Family and Jewelers Trade Shop: A Passion for Giving Back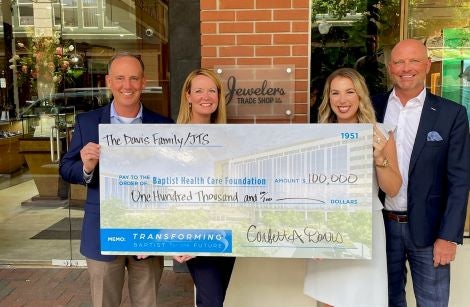 Sarah and Corbett Davis
Jewelers Trade Shop has been a prominent pillar in Pensacola since 1956. The Davis family has built strong relationships with community members and families through years of business growth and success, and the family is thankful for the opportunity to give back.
Corbett Davis III, third-generation store owner and current president of Jewelers Trade Shop, and his wife, Sarah, are most passionate about organizations and programs that support children and youth. They enjoy learning about many nonprofits' impact in the community and then finding ways to best support an organization's mission.
"We love being able to support this community the same way this community has supported us through the years," Corbett said. "We're grateful for the opportunities that were bestowed upon us. We want to do anything we can to help and be involved in the community. And we get to show our kids the importance of giving back."
The Davis family recently made a significant gift to Baptist Health Care Foundation to support the new Baptist Hospital campus at Brent Lane and I-110. The Foundation will name the imaging/cardiology waiting area, which is located on the first floor, in honor of the Davis family for their impactful gift.
"This new hospital is going to be amazing," Corbett said. "Baptist is building it from the ground up, which means it will have all the latest and newest equipment, technology and facilities. It's going to help so many people, and it's going to be relevant for so long. It's going to have an impact on many people now and into the future moving forward. It's a natural fit for what we want to do."
"It's really exciting to know that we're getting better health care facilities, just like you see in bigger cities," Sarah added. "A campus like the new Baptist will have a trickledown effect – it will attract better health care providers and teachers and young professionals to our area. I'm excited about any development in mental health because that affects everyone – patients, families, children, caregivers."
Corbett is honored to be able to continue carrying the family name and legacy forward to create a lasting impact for our community, saying this gift is dedicated to three generations of the Davis family and the families that have worked at Jewelers Trade Shops over the years.
"We weren't in the position then to give back, and we can now," Corbett said, recalling the generous spirit of his father and grandfather. "If my grandfather were alive to see where we are now and what we've been able to do, he would certainly be proud. I want to make this gift in honor of everyone who has been there through the years. They worked so hard to build a foundation of what's there now, so it really means something to be able to do this out of respect for them."