Bear Family Foundation – Generations of Generosity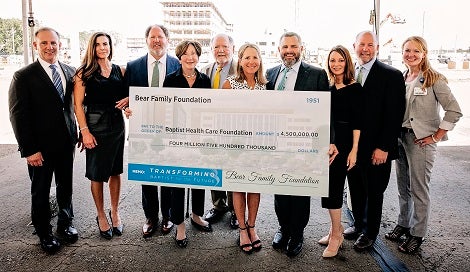 Bear Family
The Bear family and their foundation have a long history of philanthropy in Pensacola and the Northwest Florida region. They have given time, leadership, compassion and monetary contributions to countless nonprofit organizations and projects to enhance the community. Their largest gift in the family foundation's history, $4.5 million, will be given to Baptist Health Care Foundation. To honor their gift, the new health center located at Brent Lane and Interstate 110 will be named The Bear Family Foundation Health Center.
The Bear Family Foundation board of directors is made up of nine family members from the Lewis Bear Jr. family. The three-generation board includes Lewis Bear Jr. and wife Belle Bear. Other board members are the children of Lewis and Belle and their spouses, who include Lewis Bear III and wife Jennifer Bear, David Bear and wife Cindi Bear, and Cindi Bear Bonner, husband Chad Bonner and their daughter, Lauren Bonner.
"You give by doing," Lewis Jr. said. "Our family connects with the vision of Baptist Health Care – improving quality of life in the community. The health of the community is vital to the future success of the community, and we saw this as an opportunity to help many people for many years."

"I get this wonderful feeling when I give," Belle said. "When our family gives our time and puts in the effort to serve others, we get just as much out of it, or more, as the people we help."
Lewis Jr. said his parents instilled the gift of giving in him at a young age. "For my 6th birthday, my parents donated all the birthday gifts I received to children less fortunate than me," Lewis Jr. said. "I'm not sure I understood it at that young age, but that memory sticks with me. I've carried on that giving spirit to my children. And Belle and I see it in our grandchildren now."

Belle said she is grateful to see their family continuing that legacy of generosity. "I'm so proud of my children and grandchildren for giving back," Belle said. "We have never had to convince them or coax them to give their time and donate dollars to causes that matter to them."

Each family member has a special place for various charities in the region. For Belle, it's working with special needs individuals, such as her work through The Arc Gateway. For Lewis Jr., it's serving on various economic development boards to further the growth of Pensacola. No matter each family member's project, the passion remains the same – helping people throughout life's journey, just like the Baptist Mission.

Lewis Jr. has been connected to Baptist for more than 40 years when he served as a young board member under Baptist Health Care's first CEO and president Pat Groner. "I remember being a young man and eager board member trying to talk big growth and development to guys who were the same age that I am now," Lewis Jr. said. "Since then, I've always stayed interested in Baptist, in the work that they continue to do for our community."
This historic gift that the Bear Family Foundation is providing the community through Baptist exceeds the expectations of what current CEO and president Mark Faulkner could have imagined.
"The Bear Family Foundation shares our Mission and Vision as we all truly want to make this community a wonderful place to live, grow and thrive," Mark said. "And you do that by investing in the health of people and the heart of the community. We are beyond grateful at the magnitude in which the Bear Family Foundation is supporting Baptist, through their gift, putting their trust in us to ensure we can continue to care for our community for generations to come."
We thank the Bear Family Foundation for their generations of generosity. The family's exemplary kindness and mentorship will forever touch the lives and hearts of our community.