Ninth Annual Bras Across the Bridge Raises More Than $36,000 for Baptist Health Care Foundation's Mammogram Fund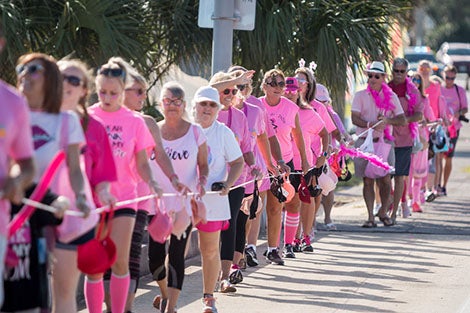 PENSACOLA, Fla. (Oct. 19, 2018) – The ninth annual Bras Across the Bridge raised more than $36,000 for Baptist Health Care Foundation's Mammogram Fund – a $10,000 increase from last year's event.
The Mammogram Fund provides mammograms to women in our community who are not financially able to afford one on their own, as well as raises awareness and support for early detection. For every $100 raised through the Foundation, one mammogram can be provided to a woman in need.
Since the beginning of this program, mammogram screenings have been provided to 2,006 women. As a result of these screenings, 391 women required additional testing, 47 required biopsies and 18 were diagnosed with breast cancer.
More than 400 new bras were donated by Bras Across the Bridge participants. The Foundation will donate these bras to several local organizations that help women and girls in need.
Baptist Health Care Foundation would like to thank the following sponsors: Pensacola Honda; The Grand Marlin Restaurant & Oyster Bar; Soft Rock 94.1; Magic 106.1; Nash 102.7; WEAR ABC3 - WFGX 35; Pensacola News Journal & Bella Magazine; Acumen Medical Imaging & Interventional; Andrews Institute Rehabilitation – Crestview; ASI Endurance; Cox; Fisher Cabinet; GoodWin Asset Management; Gulf Power; PPX Imaging, Inc.; Tickled Pink Club; Wind Creek Casino & Hotel – Atmore, Alabama; Ben Brown, M.D. Plastic and Reconstructive Surgery; Liberty Sertoma; Life Care Center of Pensacola; Medco; MoxieFood.com; and ResortQuest by Wyndham Vacation Rentals.
For more information or to make a donation to this cause, contact foundation@bhcpns.org or 850.469.7906 or visit BaptistHealthCareFoundation.org.
CONTACT BELOW IS FOR MEDIA USE ONLY
For more information about this press release or to schedule an interview, please contact 850.791.5254 or BHCMediaRelations@bhcpns.org.
About Baptist Health Care
Baptist Health Care is a community-owned, not-for-profit health care organization committed to improving the quality of life for people and communities in Northwest Florida and South Alabama. The organization is a proud member of the Mayo Clinic Care Network. A 2003 Malcolm Baldrige recipient, Baptist continuously strives to be a national leader in quality and service. Baptist Health Care includes three hospitals, four medical parks, Andrews Institute for Orthopaedic & Sports Medicine, Lakeview Center, Baptist Medical Group and Baptist Heart & Vascular Institute. With more than 6,500 employees and employed physicians, Baptist Health Care is the largest non-governmental employer in Northwest Florida. For more information, please visit www.eBaptistHealthCare.org.
Baptist Health Care • Baptist Hospital • Gulf Breeze Hospital • Jay Hospital • Lakeview Center • Baptist Medical Park – Nine Mile • Baptist Medical Park – Navarre • Baptist Medical Park – Pace • Baptist Medical Park – Airport • Andrews Institute • Baptist Medical Group • Baptist Heart & Vascular Institute • Mayo Clinic Care Network
###