Lee Family Donates $250,000 to Baptist Health Care Foundation for Chapel at New Hospital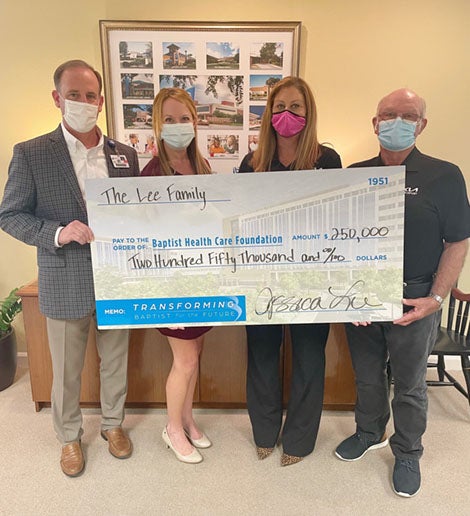 PENSACOLA, Fla. (Sept. 13, 2021) – Jessica Lee, the Lee family and Kia AutoSport of Pensacola are donating $250,000 to the new Baptist Health Care campus located on the corner of Brent Lane and I-110. The donation will go towards the chapel located inside in the new hospital.
"Our faith is important to my family," said Jessica Lee, who serves on the Foundation board of directors. "So this was an easy decision for us to make and put our donation to a tangible site where faith can live on."
Jessica Lee and her three sisters inherited their generosity from their parents, Monroe and Mary Rose Lee. She said her parents instilled in them the importance of donating back to others, not for recognition, but because it's the right thing to do. The value of giving is what Jessica Lee is now teaching her 7-year-old son, Monroe, who donates to children and families in need with money raised through his lemonade stands.
Generosity spans the hearts of all Kia AutoSport employees that Jessica Lee oversees in her role as general manager and vice president of the Pensacola location. The team picks several nonprofit organizations to give time and donations to each year, including FamiliesFirst Network's Operation Santa toy drive to support foster children in our community.
"Jessica Lee, her family and the team at Kia AutoSport have been generous supporters of many community organizations for years," Baptist Health Care President and CEO Mark Faulkner said. "We are blessed with her service to our Foundation board and now for this transformational family gift to support the new chapel."
For more information, visit BaptistHealthCareFoundation.org or call 850.469.7906.
###
CONTACT BELOW IS FOR MEDIA USE ONLY
For more information about this press release or to schedule an interview, please contact Kathy Bowers at 850.791.5254 or BHCMediaRelations@bhcpns.org.
About Baptist Health Care
Baptist Health Care is a not-for-profit health care organization based in northwest Florida that is committed to helping people throughout life's journey. The organization is a proud member of the Mayo Clinic Care Network. Baptist continuously strives to be a national leader in quality and service. Baptist Health Care includes three hospitals, four medical parks, Andrews Institute for Orthopaedic & Sports Medicine and a large network of primary care and specialty physicians. Baptist Health Care is one of the largest non-governmental employers in northwest Florida.
Baptist Health Care • Baptist Hospital • Gulf Breeze Hospital • Jay Hospital • Lakeview Center • Baptist Medical Park – Nine Mile • Baptist Medical Park – Navarre • Baptist Medical Park – Pace • Baptist Medical Park – Airport • Andrews Institute • Baptist Medical Group • Baptist Heart & Vascular Institute • Cardiology Consultants • Baptist Health Care Foundation