John and Jerre Peacock Donate $500,000 to Baptist Health Care Foundation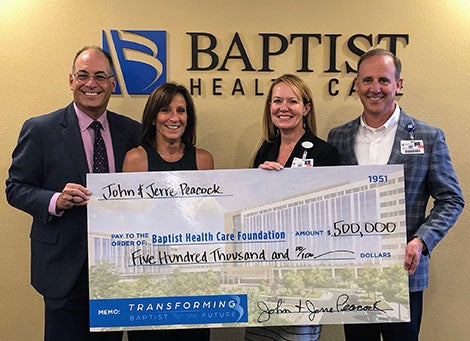 PENSACOLA, Fla. (July 28, 2021) – John and Jerre Peacock have pledged a multi-year donation totaling $500,000 to support the new Baptist Health Care campus at Brent Lane and I-110. Their generous donation will name the Peacock Family Heart Center on the new campus in honor of their large family, including Jerre Peacock's family, the Ceravolo family, and future generations.
John Peacock recently found himself in need of cardiac care. He was referred to a Baptist cardiologist and electrophysiologist for the specialized care he needed. "Everyone was over-the-top professional in my experience at Baptist," he said. "I received nothing but the best care and personal attention every time."
The Peacocks said they have had many friends and family members receive the same exceptional level of care at Baptist.
The Peacocks have been generous contributors to the community for over two decades through the Panhandle Charitable Open, a nonprofit organization supporting various programs of the Foundation over the years through its grants. The couple wants to continue helping others by supporting the future heart center at the new campus.
"John and Jerre have always been passionate about giving back to support our community," said Mark Faulkner, president and CEO of Baptist Health Care. "We are grateful they have chosen Baptist as their trusted health care partner. Their inspirational gift towards the new health campus will impact families for generations to come."
For more information, visit BaptistHealthCareFoundation.org or call 850.469.7906.
###
CONTACT BELOW IS FOR MEDIA USE ONLY
For more information about this press release or to schedule an interview, please contact Kathy Bowers at 850.791.5254 or BHCMediaRelations@bhcpns.org.
About Baptist Health Care
Baptist Health Care is a not-for-profit health care organization based in northwest Florida that is committed to helping people throughout life's journey. The organization is a proud member of the Mayo Clinic Care Network. Baptist continuously strives to be a national leader in quality and service. Baptist Health Care includes three hospitals, four medical parks, Andrews Institute for Orthopaedic & Sports Medicine and a large network of primary care and specialty physicians. Baptist Health Care is one of the largest non-governmental employers in northwest Florida.
Baptist Health Care • Baptist Hospital • Gulf Breeze Hospital • Jay Hospital • Lakeview Center • Baptist Medical Park – Nine Mile • Baptist Medical Park – Navarre • Baptist Medical Park – Pace • Baptist Medical Park – Airport • Andrews Institute • Baptist Medical Group • Baptist Heart & Vascular Institute • Cardiology Consultants • Baptist Health Care Foundation