Baptist Health Care Receives Estate Gift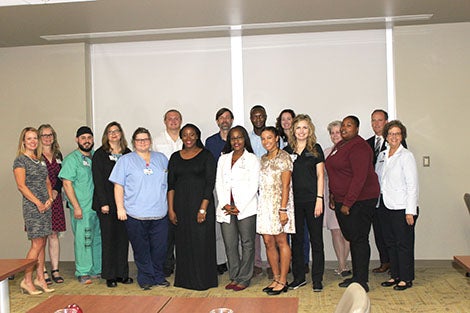 Pensacola, Fla. (July 2, 2018) – The Baptist Health Care Foundation received more than $600,000 from the Estate of Adell M. Williams. Williams and her husband, John, were lifelong supporters of Baptist Health Care and its Mission of helping people throughout life's journey.
"The Williams' legacy will live on through the mission, vision and values of Baptist Health Care," says KC Gartman, executive director, Baptist Health Care Foundation. "We will remain good stewards of these dollars, investing in the greatest needs within our health care system."
One hundred percent of contributions made to the Baptist Health Care Foundation are applied to patient care, programs and leading-edge technology within Baptist.
To learn more about the Baptist Health Care Foundation or to make a contribution, call 850.469.7906 or visit BaptistHealthCareFoundation.org.

CONTACT BELOW IS FOR MEDIA USE ONLY
For more information about this press release or to schedule an interview, please contact 850.791.5254 or BHCMediaRelations@bhcpns.org.
About Baptist Health Care
Baptist Health Care is a community-owned, not-for-profit health care organization committed to improving the quality of life for people and communities in Northwest Florida and South Alabama. The organization is a proud member of the Mayo Clinic Care Network. A 2003 Malcolm Baldrige recipient, Baptist continuously strives to be a national leader in quality and service. Baptist Health Care includes three hospitals, four medical parks, Andrews Institute for Orthopaedic & Sports Medicine, Lakeview Center, Baptist Medical Group and Baptist Heart & Vascular Institute. With more than 6,500 employees and employed physicians, Baptist Health Care is the largest non-governmental employer in Northwest Florida. For more information, please visit www.eBaptistHealthCare.org.
Baptist Health Care • Baptist Hospital • Gulf Breeze Hospital • Jay Hospital • Lakeview Center • Baptist Medical Park – Nine Mile • Baptist Medical Park – Navarre • Baptist Medical Park – Pace • Baptist Medical Park – Airport • Andrews Institute • Baptist Medical Group • Baptist Heart & Vascular Institute • Mayo Clinic Care Network
###