5th Annual Casino Royale Gala Raises $245,860 for Baptist Health Care Foundation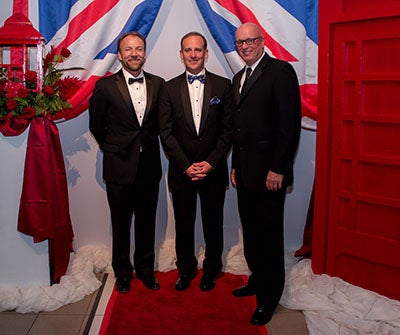 PENSACOLA, Fla. (April 25, 2018) – Baptist Health Care Foundation's 5th Annual Casino Royale gala raised more than $245,000. Proceeds from the annual black-tie, invitation-only event are used to support programs and services at Baptist Health Care. Last year's gala raised money to support the renovations and remodeling of the Baptist Cancer Institute's Infusion Center.
Proceeds from this year's event are designated to support the upcoming renovations to Baptist Hospital's progressive care unit (PCU). The PCU specializes in treating medical and surgical patients whose needs are not serious enough for the intensive care unit (ICU) but too complex for the regular hospital floor.
"We are incredibly humbled at the support of our community that helps make this event such a huge success," says KC Gartman, executive director, Baptist Health Care Foundation. "As the area's only not-for-profit, locally owned health care system, we play a vital role in the community's overall health and wellness. We are proud to continue to support our Mission in helping people throughout life's journey."
To learn more about the Baptist Health Care Foundation or to make a contribution, call 850.469.7906.
CONTACT BELOW IS FOR MEDIA USE ONLY
For more information about this press release or to schedule an interview, please 850.791.5254 or BHCMediaRelations@bhcpns.org.
About Baptist Health Care
Baptist Health Care is a community-owned, not-for-profit health care organization committed to improving the quality of life for people and communities in Northwest Florida and South Alabama. The organization is a proud member of the Mayo Clinic Care Network. A 2003 Malcolm Baldrige recipient, Baptist continuously strives to be a national leader in quality and service. Baptist Health Care includes three hospitals, four medical parks, Andrews Institute for Orthopaedic & Sports Medicine, Lakeview Center, Baptist Medical Group and Baptist Heart & Vascular Institute. With more than 6,500 employees and employed physicians, Baptist Health Care is the largest non-governmental employer in Northwest Florida. For more information, please visit www.eBaptistHealthCare.org.
Baptist Health Care • Baptist Hospital • Gulf Breeze Hospital • Jay Hospital • Lakeview Center • Baptist Medical Park – Nine Mile • Baptist Medical Park – Navarre • Baptist Medical Park – Pace • Baptist Medical Park – Airport • Andrews Institute • Baptist Medical Group • Baptist Heart & Vascular Institute • Mayo Clinic Care Network
###