Baptist Health Care Hosts Christmas Celebration at C.A. Weis Elementary School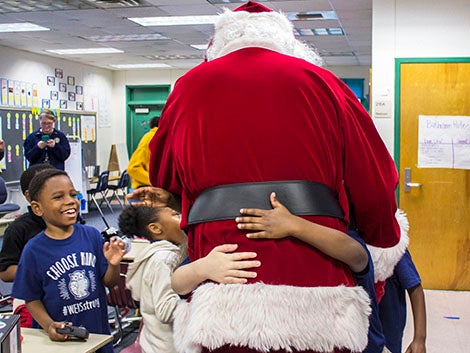 PENSACOLA, Fla. (Dec. 21, 2018) – Santa arrived by fire truck to make a special appearance during a school-wide Christmas party at C.A. Weis Elementary School, A Community Partnership School in Pensacola on Thursday.
The party was hosted by Baptist Health Care (BHC) team members and volunteers. They donated gifts and goodies to bring holiday cheer to nearly 550 students. Pensacola Fire Dept. provided Santa's unique transportation.
BHC has hosted the Christmas party for more than 16 years. Team members say this partnership event is the highlight of their year.
"To me, this is one of the most important things that we do," said Maegan Leonard, development specialist, Baptist Health Care Foundation. "For us to be able to come out and make these children feel extra special before they go home on Christmas break is the amazing part because they are so deserving of it. It makes the holidays so memorable for all of us."
Funds for the party are provided through the Helping Hands team member giving program of the Baptist Health Care Foundation. The Helping Hands program is funded by generous contributions from BHC team members.
###
CONTACT BELOW IS FOR MEDIA USE ONLY
For more information about this press release or to schedule an interview, please contact Kathy Bowers at 850.791.5254 or BHCMediaRelations@bhcpns.org.
About Baptist Health Care
Baptist Health Care is a community-owned, not-for-profit health care organization committed to improving the quality of life for people and communities in Northwest Florida and South Alabama. The organization is a proud member of the Mayo Clinic Care Network. A 2003 Malcolm Baldrige recipient, Baptist continuously strives to be a national leader in quality and service. Baptist Health Care includes three hospitals, four medical parks, Andrews Institute for Orthopaedic & Sports Medicine, Lakeview Center, Baptist Medical Group and Baptist Heart & Vascular Institute. With more than 6,500 employees and employed physicians, Baptist Health Care is the largest non-governmental employer in Northwest Florida. For more information, please visit www.eBaptistHealthCare.org.
Baptist Health Care • Baptist Hospital • Gulf Breeze Hospital • Jay Hospital • Lakeview Center • Baptist Medical Park – Nine Mile • Baptist Medical Park – Navarre • Baptist Medical Park – Pace • Baptist Medical Park – Airport • Andrews Institute • Baptist Medical Group • Baptist Heart & Vascular Institute • Mayo Clinic Care Network